Your own muscovado brand starts here
Muscovado Philippines is you reliable muscovado sugar partner for your Private Label
Muscovado Philippines offers you the opportunity to market or expand your own muscovado brand through the private label concept. We offer natural muscovado, organic muscovado and muscovado syrup that you can market as your product under your own brand name. This way you can create your own custom brand. Muscovado Philippines monitors the process where necessary and you can therefore draw on extensive experience in the development and manufacture of retail-ready products.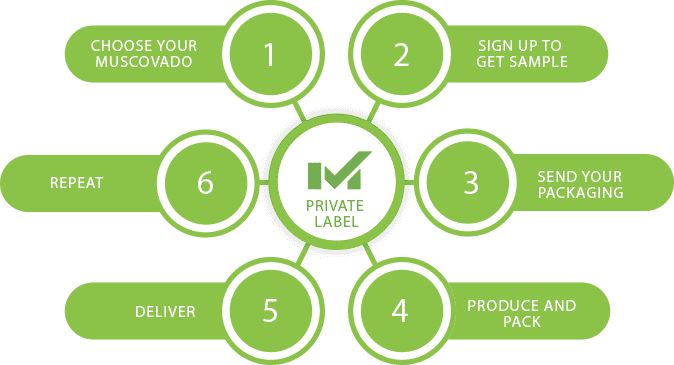 Let's get started on your own muscovado brand. Sign up using the button below!
We aim to make it easier for you
Services we're offering soon.
Benefits of muscovado sugar private label
Premium products
All muscovado products are of high quality, natural, and often unprocessed. In our product specifications, you can see exactly what you will soon offer under your own brand name. In any case, you are safe with high-quality products and fast delivery from our large warehouse worldwide.
Branding and logistics 
We can help you from packaging, logo design, to shipment. Just choose your muscovado product variety so we can send samples and you can taste and test. You can design your own packaging or get in touch with our in-house brand designers that can create exactly what you need for your own muscovado sugar brand.
Certified quality
The goal of Muscovado Philippines is to deliver traceable products of the highest quality. All products we sell are processed and packaged in such a way that they meet the required quality standards. We work with various partners who have the necessary certification. In addition to our partners, we also place strict requirements on our products. All products traded through Muscovado Philippines are supplied with extensive specifications and batch analysis certificates. If you cannot find the information you need on the product page itself, you can request it from the quality department. The products we call organic on our website are certified and 100% chemical-free.
Higher profits 
Our high-quality natural and organic muscovado products are offered at factory prices. Very comparable to or lower than other muscovado sugar brands. You can set your own price.
Brand value
Selling your own private label muscovado sugar products not only builds your prestige in the interests of your customers, but also in the market. Building sales of your own muscovado sugar brand can increase the overall value of your business.
Setting up your own muscovado sugar brand, or expanding your muscovado product market? In Muscovado Philippines you will find the reliable muscovado sugar partner you need. As the one of the largest online muscovado sugar producers in the Philippines, we have extensive experience in offering natural, unbranded muscovado products. You are assured that you are selling premium quality muscovado products under your brand name. Would you like more information or are you looking for advice on how to start your own brand or company? Contact Us Now!